The largest investors have moved 700,000 ETH, equivalent to $ 182 million, to cryptocurrency exchanges in the past three days. Analysts believe that the whales are preparing for the upward movement in the price of ETH.
According to analytical resource Santiment , the movement of 700,000 ETH worth $ 182.7 million coincided with a decrease in the total balance of OTC wallets by about the same figure. This suggests that the "whales" can prepare for the massive sale or trade of ETH in anticipation of the growth of the cryptocurrency rate.
"Over the past three days, the 100 largest whales have moved almost 700,000 ETH. During this time, the aggregate balance of the 100 largest OTC ETH addresses decreased by almost 700,000 ETH, or about $ 182.7 million. This can probably be considered preparation for an increase in the price of cryptocurrency, " analysts said .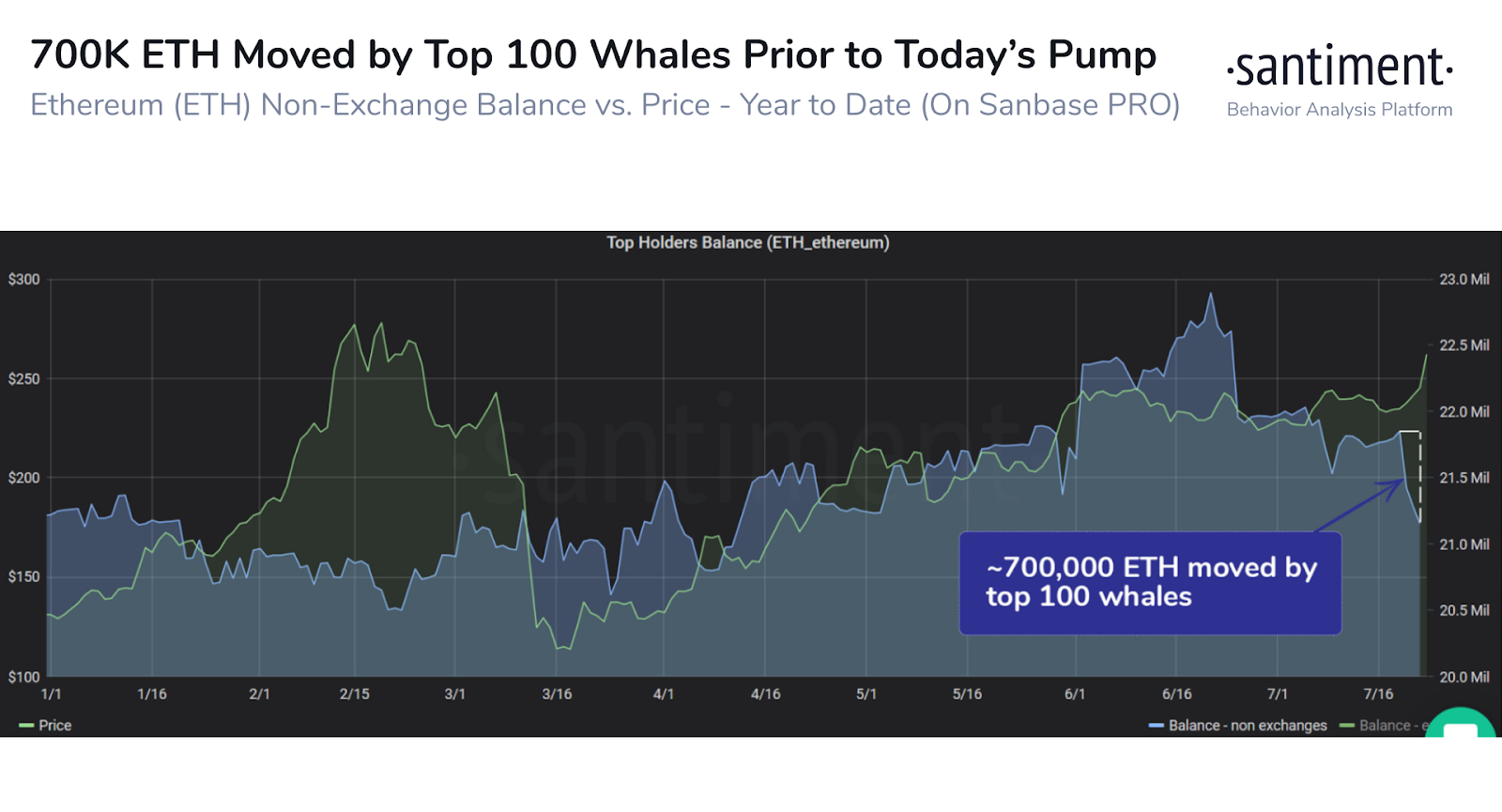 Ethereum has been the focus of the industry in recent weeks. This is due to two main factors – the boom in the DeFi industry, whose largest products are based on Ethereum, as well as the imminent rollout of the long-awaited Ethereum 2.0 network upgrade. These trends may contribute to the growth of ETH – over the past 24 hours, the price of the cryptocurrency has increased by 8.4% and reached $ 263, according to CoinMarketCap.
As a reminder, Ethereum developer Danny Ryan announced yesterday that the final version of the Ethereum 2.0 testnet will launch on August 4th. The mainnet launch is scheduled for November 4th. In addition, at the beginning of the week, the total market capitalization of stablecoins reached $ 12 billion. At the same time, according to analytical company Messari, Ethereum accounts for more than 85% of the transaction value of all issued stablecoins.
Recently, it became known that the volume of blocked crypto assets in DeFi applications reached $ 3 billion. The combination of these and other factors could lead to the fact that the "whales" began to prepare for an increase in the price of cryptocurrency and move ETH to exchanges.