The Chainlink (LINK) project token continues to grow – yesterday its rate reached a historic high of $ 8.5, but then fell to $ 7.2.
Chainlink is developing price oracles for various blockchains, but it seems that the demand for LINK turned out to be higher than for the company's services. This token has become one of the best in growth in 2019, and this year also continues the trend. In July alone, the LINK rate increased by 73%. Now the token takes 10th place in the CoinMarketCap rating , and its capitalization is $ 2.7 billion.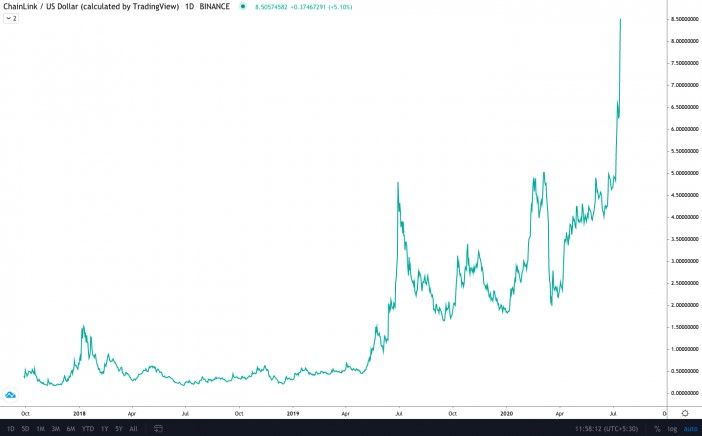 Although the Chainlink project has received good reviews from major companies such as Google and Oracle, LINK is bought mainly by retail investors. Typically, purchases are made by users of wallets with less than 100,000 LINK. At the same time, the category of wallets with 10 to 1,000 LINK is growing fastest. Of the 167,000 wallets with LINK, only 350 addresses store more than 100,000 of these tokens.
The number of active addresses with LINK is also constantly growing. The Chainlink team continues to develop and is preparing to introduce new products, so the continued growth of this crypto asset is quite expected. In addition, earlier this month it was reported that the Huobi exchange would be the first major cryptocurrency platform to launch its own Chainlink node.