According to ConsenSys subsidiary Codefi, DeFi app user activity continues to grow, with the same users interacting more often with products.
The Codefi report raises the question of how many unique users are using DeFi services. While the volume of assets locked up in decentralized finance apps has nearly tripled since April this year, much of the activity isn't coming from new users.
One of the questions the researchers investigated is whether users really benefit from the interoperability of Ethereum-based DeFi protocols. The report analyzes 79,648 addresses that interacted with DeFi smart contracts in Q2 2020.
According to the report, 1,884 users sent 100 transactions or more in Q2. In addition, most users remain loyal to one platform and rarely use others. These users were more likely to interact with at least two or three different DeFi protocols. 
The Uniswap protocol attracted the most attention in the second quarter – 1,625 users interacted with the platform. Kyber Network came in second with 916 users and Compound came in third with 367 members.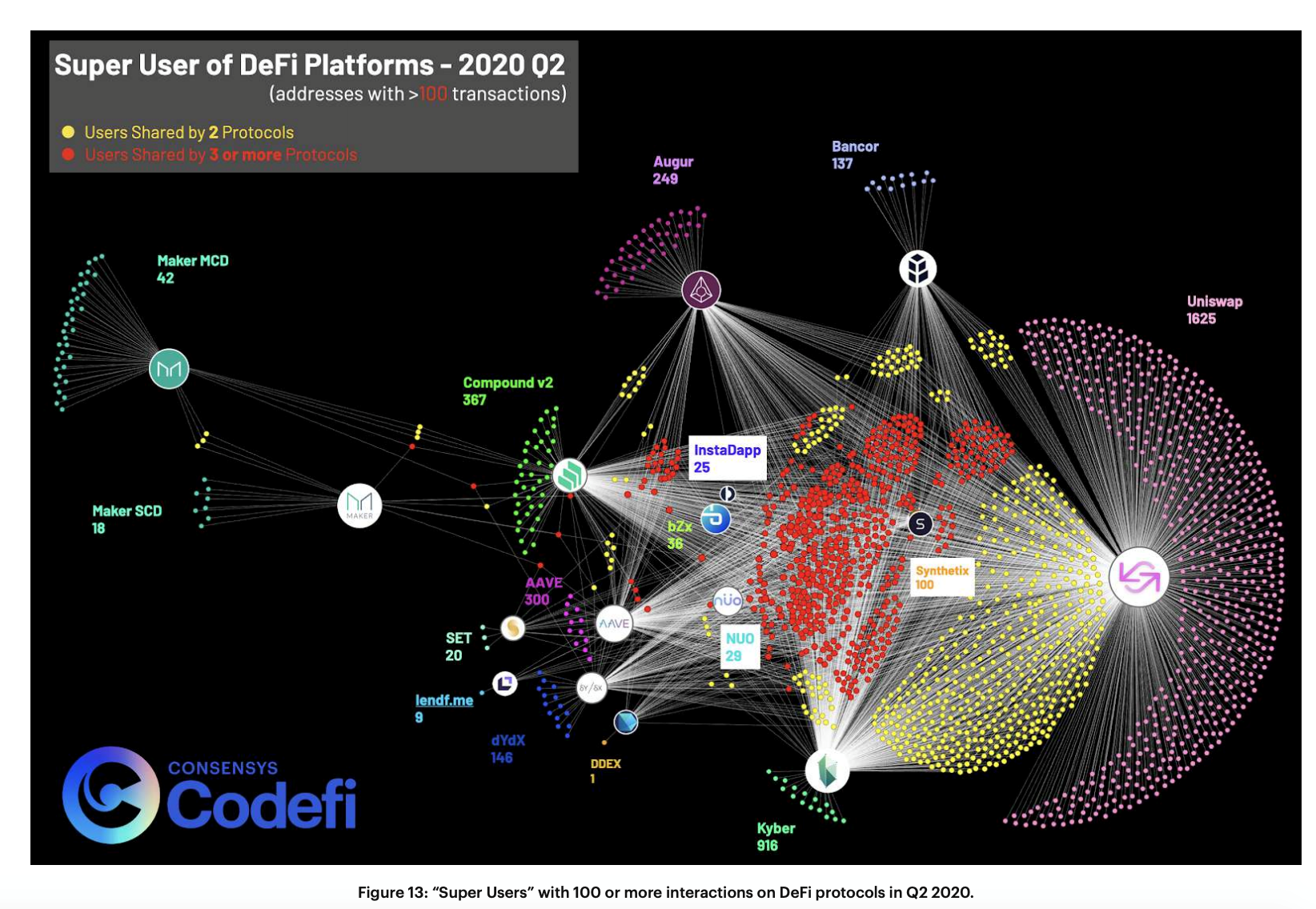 The report does not disclose the size of the account balances of this group. However, according to researchers, the explosive growth of Compound had almost no effect on attracting new users to the DeFi industry – the most active participants are those who have previously interacted with decentralized finance protocols.
The authors of the report believe that DeFi product developers should focus on design, user experience improvement and education in order to prevent the industry from becoming a bubble.
"The data shows that interest in the growth of the industry has largely focused on the existing community. The likely conclusion is that many DeFi innovations are only at risk of explosive growth in the power user community, "says Codefi.
In the middle of the month, analyst firm Messari reported that the number of active Ethereum addresses has increased since the beginning of 2020 and is growing almost twice as fast as that of Bitcoin. That said, much of the growth has come amid the boom in the DeFi industry in recent months.
In addition, recently the total market capitalization of ERC-20 tokens exceeded $ 33 billion and now surpasses that of Ethereum itself, which is $ 27 billion.