Ethereum may become the first blockchain to reach more than $ 1 billion in annual transactions, driven by the boom in the DeFi industry, which has dramatically increased the number and volume of transactions.
According to analyst firm Messari, the average daily volume of transactions on the Ethereum network over the past 30 days was $ 7 billion, while the similar figure on the Bitcoin network reaches only $ 3 billion. 
If the trend continues, then by the end of the year the volume of transactions on the Ethereum blockchain could reach $ 1 trillion. Analysts expect Bitcoin's blockchain transaction volume to reach $ 800 billion.
Note that 2018 was the best year in terms of the volume of transactions – at that time, transactions worth $ 849 billion were made on the network of the first cryptocurrency, and on the Ethereum network, this figure was $ 504 billion.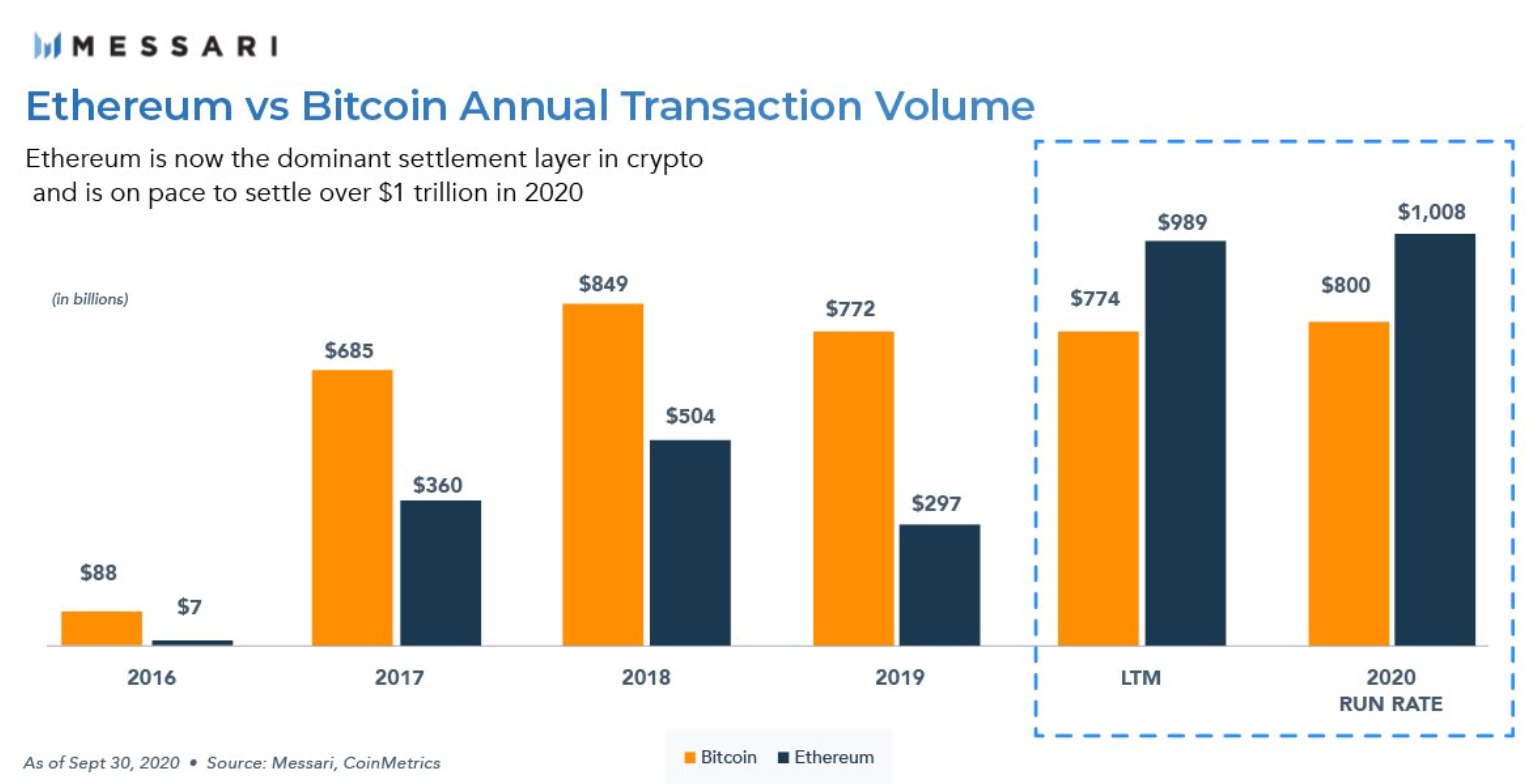 At the same time, analysts emphasize that the growth in the volume of transactions in the Ethereum network is mainly due to the boom in the decentralized finance industry. Ethereum remains the most popular blockchain for DeFi applications, while transactions on the Bitcoin network show exclusively transfers of funds in BTC.
Messari analyst Ryan Watkins noted that decentralized exchanges make up a significant share of transaction volume. In September alone, the Uniswap and Curve exchanges generated $ 20 billion worth of transactions. Now decentralized platforms account for about 13.6% of the total trading volume of cryptocurrency exchanges.
However, the next year may turn out to be quite difficult for Ethereum – the scalability of the network is not enough for such a volume of transactions, which leads to a significant increase in fees.
"All Ethereum killers will spend huge amounts of money building their own parallel ecosystems of decentralized finance," said Watkins.
A survey by CryptoCompare in September showed that over 60% of Ethereum-based DeFi projects said it would not be supplanted by competing blockchains and would remain the main platform for DeFi applications for the next three years.