At night, the price of bitcoin briefly exceeded $ 11,280, and on some exchanges – $ 11,400. As a result of the liquidation of short positions, traders suffered losses of about $ 522 million.
The bitcoin price continues to move up – the first cryptocurrency grew by 5.6% over the day . According to CoinMarketCap, at night the bitcoin rate briefly exceeded $ 11,280, but quickly dropped below $ 11,000 and BTC is now trading at about $ 10,750.
During the overnight fluctuations in the exchange rate, the total capitalization of the cryptocurrency market briefly exceeded $ 320 billion and has now dropped to $ 318 billion. At night, BTC crossed the $ 11,000 mark for the first time in a year – the last time Bitcoin was traded at this price in August last year.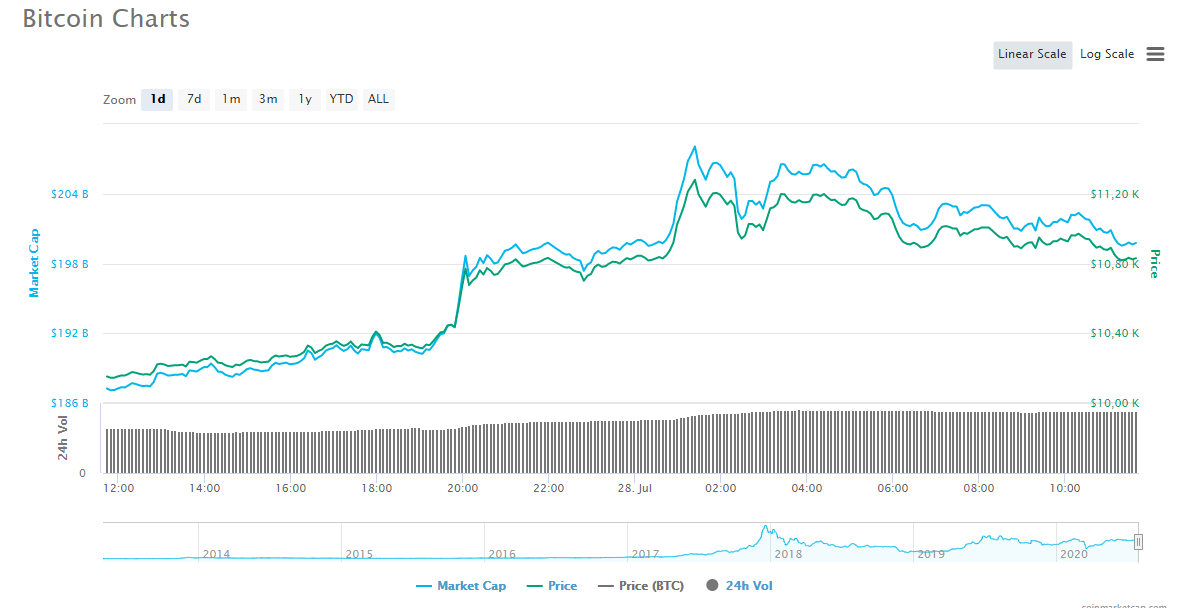 According to Coinalyze , when the bitcoin rate exceeded $ 11,280, and on some exchanges reached $ 11,400, short positions were forced to close. This led to the fact that in the last 24 hours traders suffered losses of $ 522 million. These traders were playing for the fall in the BTC rate and, at the peak of the exchange's growth, began to automatically liquidate contracts due to requests for an increase in margin.
Most of the short positions were liquidated on the Binance exchange – their volume exceeded $ 126 million per day. BitMEX traders also suffered, losing about $ 124 million. Clients of Huobi, Bybit and Bitfinex lost between $ 90 and $ 100 million during forced liquidations.

The current price movement of bitcoin continues the trend that began on the afternoon of July 26, when the price of BTC exceeded $ 10,000 for the first time since the beginning of June . On some exchanges, the rate managed to rise to $ 10,200. A pullback followed a spurt, and bitcoin stabilized slightly above $ 9,900, but soon continued to move up.