In the past week, the Chinese province of Sichuan, whose miners generate more than 50% of the hashrate of the Bitcoin network, has been hit by storms. As a result, part of the cryptocurrency mining capacity was shut down.
Storms in Sichuan are leading to power outages in some areas of the province, and some hydroelectric power plants are turning off generation to contain floods. It is equally important to disconnect communications in certain regions.
According to the BTC.com portal, as a result of the shutdowns of mining farms, the hashrate of the four largest mining pools PoolIn, F2Pool, BTC.com and AntPool, which are located in China, decreased by 10-20% over the past 24 hours.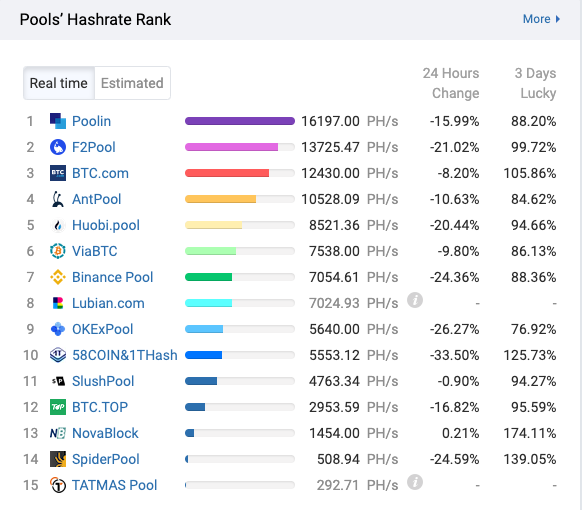 Thus, the average three-day hash rate of the Bitcoin network dropped to 123 Eh / s, and the average daily – to 110 Eh / s. These indicators are below the average hash rate for 7 days by 3% and 10%, respectively.
Recall that during the rainy season in the Chinese provinces of Sichuan and Yunnan, energy generation greatly increases, which is used by the miners of Bitcoin and other cryptocurrencies. However, mining in these provinces is associated with flood risks.
In mid-July, the hash rate of the Bitcoin network reached a historic record of 148 Eh / s. Then analyst Max Keiser expressed the opinion that the bitcoin rate will follow the hash rate and continue to grow.